Dr Daniel O'Sullivan (Doctor of Chiropractic)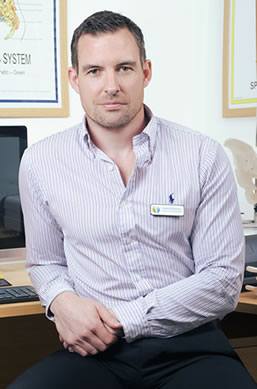 Daniel is from Peterborough originally and studied chiropractic at university in Oxfordshire. He learned a range of gentle approaches to restore correct function of the spine and nervous system and has taken his personal development beyond this into a more diverse world of adjusting the spine. He is passionate about health in general and dedicates his time to the study and practice of all aspects within this field including nutrition, functional personal fitness and the elimination of physical, chemical and emotional stresses from the body. These influences can all have insidious devastating effects that many of us are not aware of, but all can be prevented, "Prevention is better than cure". This increases longevity and Daniel is keen to pass on this knowledge to help people to get more from their bodies as they age which will be encompassed into your treatment program.
Daniel is a PADI dive master, and enjoys snow boarding and kite surfing as well as spending time with family and friends and reading personal development books and philosophy. He has spent 2 years backpacking, mainly in Australasia and loves to explore new cultures and experiences in life generally.
He is passionate about his vocation as a health professional and excited to hold a position whereby he can make a huge positive difference in people's lives by treating them with the phenomenal art of chiropractic. Daniel is enthusiastic and aims to use his passion to inspire his clients mentally and emotionally and pass on knowledge that will help them to be all they want to be, not just with the elimination or reduction of pain but beyond that to higher functioning body and a better quality of life.
Sian Day – Chiropractic Assistant 
Sian is originally from Ashwell in Hertfordshire. Her love of Art & Design led her to study Design Crafts (Fashion, Photography, Graphics & Ceramics) she continued this vocation at De Montfort University, where she gained a degree in Printed Textiles.
Following university, Sian travelled widely in places such as Australia, Thailand, Singapore and America. Her love of adrenaline activities found her sky diving and bungee jumping whilst completely embracing new and exciting cultures.
Sian re-trained as a Makeup Artist at the House of Glam Dolls in London and went on to be selected as one of the Makeup Artists for Britain's Next Top Model TV show in 2017.
Sian is equally as passionate about health and well-being. A huge advocate for not only what we feed our bodies, but our minds too; she is as committed to personal development as she is nutrition and exercise.
Upon meeting Dr O'Sullivan and being immersed into the world of Chiropractic, Sian was amazed by not only the positive impact that Chiropractic has to an individual's day but the change it makes to people's entire lives.
Caroline Woodthorpe – Sports Massage Therapist
Caroline is originally from the Peterborough area and is qualified Sports Massage Therapist up to level 4 and planning study towards Level 5.  She is also a qualified gym instructor and personal trainer.
Caroline's passion for sports, health and fitness comes from her own experience as a competitive figure skater, up to the age of 15 Caroline skated competitively throughout the UK, later she turned to skating in shows and eventually she finished her skating career as a judge for the National Ice Skating Association of Great Britain.  Caroline still enjoys the occasional skate today but in a non-competitive environment. More recently she has taken up kickboxing, running and followed in her father's footstep in Judo.
Caroline's love of sports and her fascination with the human body and how it works has inspired her to venture further and deepen her knowledge and understanding in this subject and is currently studying toward a degree in Health Science.
When she is not studying, in the gym, at the rink or working, Caroline enjoys being out with her young daughter, family and friends.